Fitur
Personnel Data
Attendance Records
Work Pattern
Payroll & THR
Sick & Permissions
Leave Management
Employee Benefits
PPh-21
PPh-26
BPJS
Employee Portal
Wages Journal
Multi Approval

PREMIUM

Wage Structure and Scale
Data Analysis
Rekrutmen

New

Inventaris Kantor

New
Personnel Data
All of your personnel information -- from attendance record, bank account, birthday to career path -- in one place.
Attendance Record
An easy way to record and monitor your personnel's attendance through PC, tablet or smart phone.
Shift Scheduling
Gadjian's shift scheduling feature allows you to easily manage a variety of work schedules and working hours.
Payroll, Overtime & Hari Raya Allowance
Gadjian allows you to calculate and create a variety of pay slips, whether you pay weekly, monthly -- or even a combination of both!
Sick & Special Leave Management
Gadjian's special leaves feature helps you to implement flexi-time in your organization.
Leave Management
Manage employee leaves with ease. No more paper forms.
All-in-one Employee Benefits. Minimum budget, maximum benefit.
Discover a variety of employee benefits that fit the Company's needs. Directly deals with benefit providers. Cost Savings, efficient, and achieve ideal productivity!
PPh 21 Calculation
Gadjian allows you calculate PPh 21 for experts, permanent employees and non-permanent employees, both monthly and yearly automatically. Gadjian provides the gross, gross up and nett PPh 21 calculation method . You can also download the .csv file for import into e-SPT PPh 21 and Form 1721 A1 for permanent employees. Changed tax regulations and need to correct PPh 21? Make it possible wih Gadjian!
PPh 26: Calculate Foreign Employee Tax in Gadjian
Does your company have foreign employees? Relax, Gadjian will assist your company in calculating income tax-26 specifically for foreign nationals. You only need to complete the identity and status of a foreign company in the Personnel menu.
BPJS Calculation
Gadjian helps you to calculate BPJS premium and integrate it into your payroll slip.
Personnel Portal
Your personnel now has easy access to their pay history, leave application and attendance records from website or mobile app GadjianKu. Get the App for free, here.
Wages Journal
A feature to help you make a wages journal. This feature will generate Wages Expenses Journal & Loan Journal that can be entered directly toJurnal accounting software.
HR Software For Sick & Statutory Leaves Online
Employment leave requires approval from several different levels? In gadjian, this process can be easily managed according to organization's structure that applicable in your company.
Wage Structure and Scale
Gadjian allows you to make arrangements for structure and scale of wages. With this feature, you can design the structure of class positions along with income ranges based on these groups. Wage scale calculation methods available at Gadjian are trend and progressive methods. Applying this system to your company can increase your employee happiness and increase productivity!
Employee Performance Analysis
Get a deeper understanding of your company so you can deliver better experiences and drive results. Gadjian provides the features you need for employee performance analysis in real-time in one place start from Compensation Data, Employee Demographics, and Productivity Data.
HR Software Rekrutmen Karyawan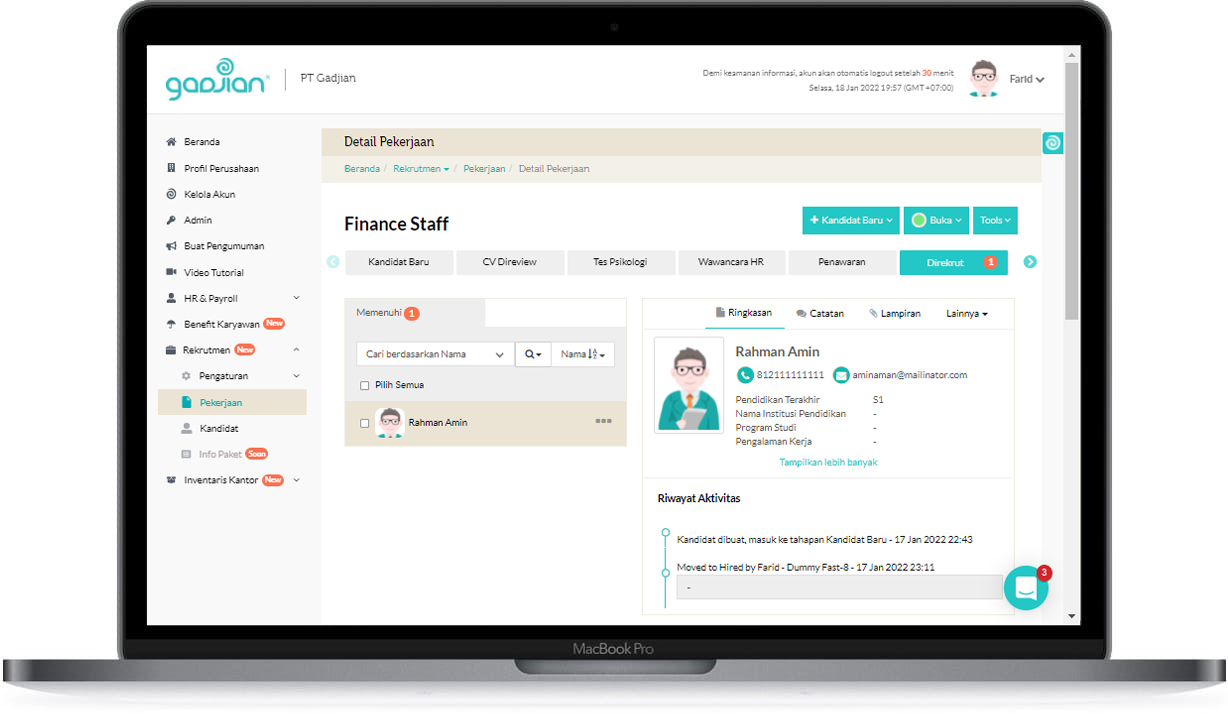 Atur proses rekrutmen karyawan dalam satu platform, permudah kolaborasi tim rekrutmen dimana pun dan kapan pun. Gratis untuk 50 kandidat pertama!
HR Software kelola Aset Perusahaan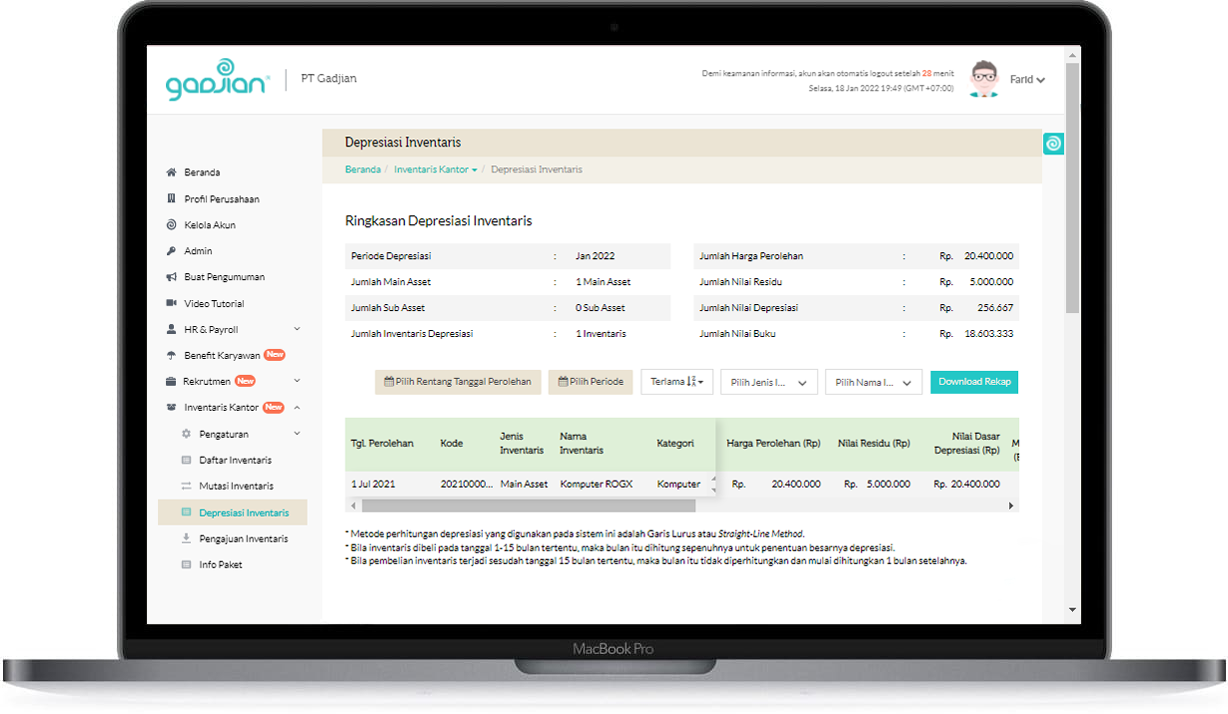 Kelola inventaris perusahaan Anda dalam satu platform, mulai dari pencatatan, maintenance hingga perhitungan depresiasi aset secara otomatis. Gratis untuk 50 Inventaris pertama!